Open air sculptures in Viersen, Germany.
Concrete. Circumference approximately 40m.
"Amphithéatre", Ettl's first outdoor installation, was realized on the grounds of the Erasmus-von-Rotterdam Gymnasium and would be used regularly by the artist/teacher and students for performances and happenings.
At the time of its construction, Georg Ettl had already developed a personal vocabulary expressed in previous graphic and sculptural works. Employed here are a range of iconic figures from his repertoire - house, marabou stork and horse-head - the latter being more wooden than real, a merry-go-round horse-head, cut off at it's neck and raised at a stately angle. The figures are repeated like bas-reliefs or antique sculptures, moulded in concrete slabs, placed in a frieze or sometimes set on top of columns. Relatively stoic and attentive in the seating area, animal figures suddenly appear to spring to life.
All these diverse elements are perfectly integrated in their architectural environment, placed intelligently so as to enhance rather than clothe in remnants or decorations thus celebrating the amphitheatre's function rather than its memory.
THE ENTRANCE HALL OF THE REGIONAL ADMINISTRATION BUILDING VIERSEN, GERMANY, 1982-1985
Georg Ettl's first wall painting, made for the entrance hall of the regional administration building in Viersen, Germany. Mineral pigments. Height: 3,5m.
For his first public commission, Georg Ettl sought to relieve the overbearing mass of this concrete-structured entrance hall. Inspired by the architectural representation of the early Italian Renaissance paintings, the artist offers his own lesson in"architectural studies".
After eliminating all figurative and decorative elements, Ettl enlarged every motive, drew and painted them in the same scale in pastel shades and blended them in a geometrically cognent yet totally unreal "ideal city". Although they represent a concentration of artistic quotes from art history, the wall paintings of "The Halle" have little in common with the architectural forms of the 14th and 15th century.
In contrast, the variety of the painted columns refer back in time and offer a variety of color and imitations - marble, wood and mosaic- which subtly strengthen the phenomenon of illusion.
SWIMMING POOL VIERSEN, GERMANY, 1990-1992
Private swimming pool in Viersen, Germany 
Walls, pools, bar, benches and partly figurative floor mosaic. Approximately 20nx 30m
In 1990, Gerog Ettl was commissioned to design the tiled area in and around a private swimming pool.
The design the artist created utilizes motives from his repertoire - pink flamingoes, dog on a leash, human silhouettes in profile. However, common, ordinary objects are also present chosen mainly for the possibilities of stylization. Despite several designs depicting figures in movement, these elements appear as if frozen, immobile and statue-like. The two flamingoes, for example, are shown bolt upright from leg to neck yet lack a head as if to remind us that these birds are nothing other than images.
The pools tiled grid pattern perfectly complements Ettl's graphic style and use of axonometric projection used for the representation of flexible forms. Allied with the clear, perpendicular lines of the architectural plans, the design produces the effect of a homogenous, airy and spiritual open space.  
MODEL FOR A MONUMENTAL HORSE STEED, 1982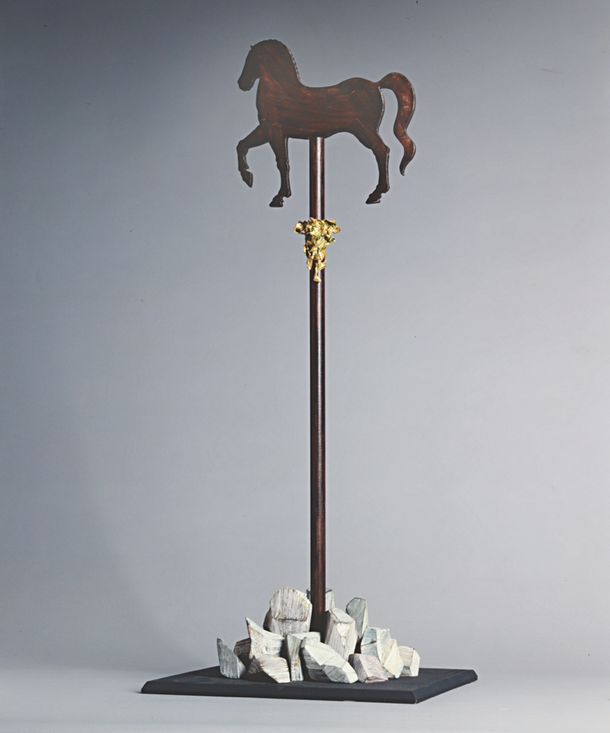 Painted wood, gilded and painted paper mâché, 66 cm high - Photo Hadler/Stuhr
Realisation after the artist's death in memory of the victims of the National Socialist Military Justice
MODEL FOR A MONUMENTAL SCULPTURE, 1983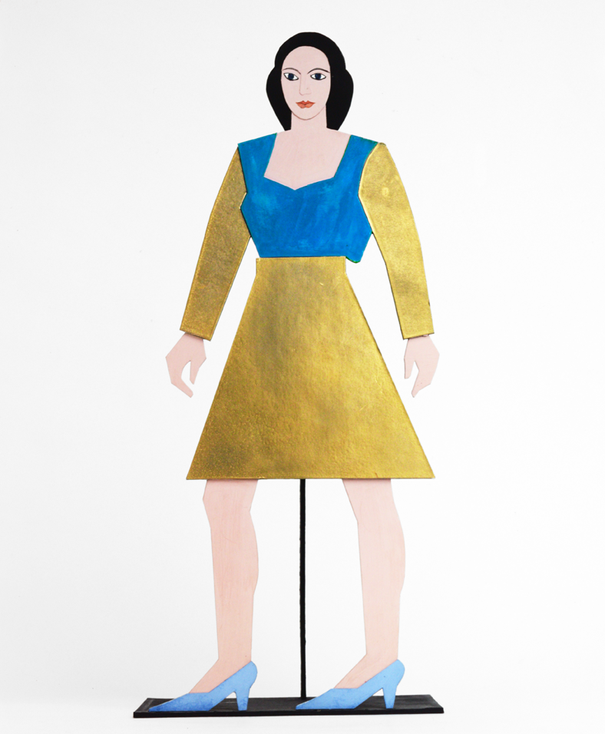 Painted cardboard , hight 47 cm - Photo Hadler/Stuhr
FACADE OF THE CHURCH SAINT ALBERTUS, MÖNCHENGLADBACH, GERMANY, 1985
MONUMENT IN MEMORY OF KARL FEGERS,
MÖNCHENGLADBACH, GERMANY, 1990
Granite, steel, acrylic lacquer, gold, hight: 244 cm.  Municipal Music School of Mönchengladbach, Germany
KARLSPLATZ ET MUSEUM COURTYARD KREFELD, ALLEMAGNE,
1991-1992 et 1997
New design for the surroundings of the Kaiser Wilhelm Museum in Krefeld, Germany
Following an invitation by Krefeld town council to improve the surroundings of the Kaiser Wilhelm Museum, Georg Ettl initially proposed reviving and replicating the former 19th century area that had once existed in front of the museum. This was considered to be too ambitious by the town council, so Ettl restricted himself to redesigning the museum courtyard.
He laid down a natural stone floor combined with pebble incrusted concrete. Figures discretely emerge from this accessible, horizontal space, not unlike Ettl's early work in the 70's which toyed with minimalism addressing the same issues of volume and relationship to the surroundings but palpably different in the way they exploit potential reference metaphors. Above all, in an effort to open up the courtyard, Ettl replaced the boundary walls by a simple fence surmounted by steel sculptures of crows. Their dark silhouettes lift their heads towards the heavens, are a direct symbol of civic pride for the citizens of Krefeld reminding them that the town's name means "Crow Field" in German.
FRIEZE OF 28 HEADS, COURT OF EUSKIRCHEN, GERMANY, 1995
GREAT WHEEL, GARDEN OF GREVENBROICH, GERMANY, 1995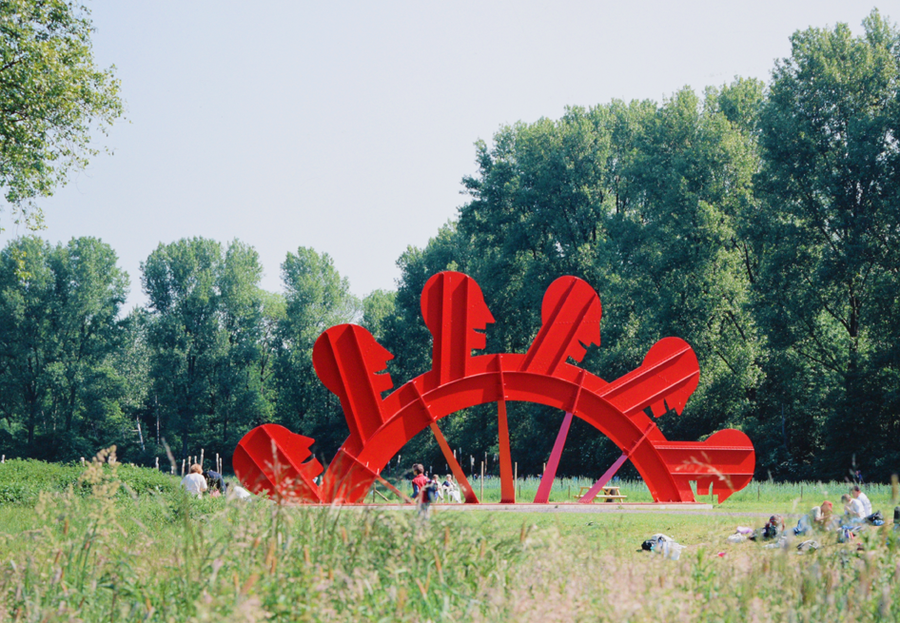 Painted steel structure. Hight: 8 meters - Photo Lecat
The wheel symbolises a brown coal shovel. Instead of blades, they are heads eating the soil.  The sculpture intends to raise awareness about the fields of tension between nature and industry.
HOLY GHOST CHURCH, NEUSS, GERMANY,1991-1999
Interior decoration and painting of the Heilig Geist (Holy Ghost) Church and baptistry at Neuss (Germany). Mural painting, cut-out relief work, enamelled metalplate, windows, organ case, altar, pews, baptismal font, candlestick holders
Georg Ettl was asked by the abbot of a catholic church built in the 80's to completely redesign the buildings interior, including all furniture and lighting, so as to produce a coherent whole. Ettl accomplished this by using an almost logo-like representation of the human figure - a simple, mechanical profile - cloned and combined in three complex friezes. These  flat or relief figures tell stories from the Gospel with clarity and humour. Their entertainment value comes from the variety of human emotions Ettl manages to extract from his simplified figures - cunning, cocky and cruel, victimised or wounded, the figures always seem enthusiastic, harmonious and sometimes even spellbound. Ettl achieves a certain fluid unity between two- and three-dimensional representations running along side-aisle walls and choir creating a joyous visual symphony of voices recounting stories from the Bible. On the church baptistry walls, Ettl painted nine labyrinths  inspired by different cultures, mythologies or religions thus creating an allegory of the human journey through life with its eternal pursuits and struggles.  
THE HORSES OF OIRON, CHÂTEAU D'OIRON - DEUX-SÈVRES, FRANCE 1992-1993
Mural painting for Château d'Oiron (deux-Sèvres, France).
Ground pastel pigments applied by brush directly onto the original coloured surfaces of the stone wall.
In response to a public commission from the Ministry of Culture for an exhibition under the title of "Cabinet of Curiosities", Georg Ettl was invited to create an artwork for the castle's exterior Gothic gallery. The only precondition of the Historical Monuments' Board of Directors was that the art had to be "removable" - in other words, erasable or "undone" without damage to the stone wall.  
The original artworks displayed on this wall were depictions honoring King Henry II's favourite horses by his equerry Claude Gouffier. Ettl was inspired by the medieval inscription painted in the middle of the gallery stating that "here are the most renowned of horses". based on the still visible faded black horse brands, Ettl painted eight heroic horses directly on the eight ochre wall fields thus creating a row of varying, playful, ironic majestic horses along the gallery.
The artist, who in his explination stressed the importance of the pictoral element in gothic architecture, attempted to bring forth this spirit once again. 
THE APOCALYPSE, SAINT BERNARD, ROMANS, FRANCE, 1997-2000
Six stained glass windows at the West end of Saint Bernard's Church in Romans-sur-Isère (Drôme, France). Blown glass, lead, tin. Circular window: diameter 2.5m. Remaining windows each 5m high.
Ettl won a national competition in 1997 to design and execute - with the help of a master craftsman - six stained glass windows illustrating passages from the last two chapters of the Apocalypse of saint John.

His creation justifies the instructive and literal interpretation of this text and gives weight to its message, a subject of much discussion within the church. The final design resulted in a colourful contrast of a rich, informative, symbolic interpretation that is strikingly lively ans simultaneously merciless.
According to Ettl, the work merely mirrors the profoundly epic quality of this biblical passage. At the same time, it also represents the world today in which money, violence and death are embodied in the devil characterised in the three, lower stained glass windows depicting hell.
Whilst the two large stained glass windows show humanity entering the city of Jerusalem, accompanied by a procession of human suffering and instruments of alienation, the circular windows depicts God's descent onto earth. Upper segments of the large windows show scenes from the new Jerusalem where souls, accompanied by the jubilations of attendant angelic musicians, are joyously saved in a riot of exuberant colours and movement.
"BATTLE OF THE KINGS", ABBEY OF SAINT-SAVIN SUR GARTEMPE,
"DANCES", CHAPEL OF JOAN OF ARC, THOUARS, FRANCE, 2000
Mural drawing for the abbey at  Saint Savin sur Gartempe Abbey (Vienne, France).
Drawing. Length: 30m. Hight: 6,5m. Width of gable wall: 8m.
Mural drawings, Joan of Arc Chapel in Thouars (Deux-Sèvres, France). Hight: 2,50m
The International Center for Mural Arts at Saint Savin Abbey invited Georg Ettl to create a work in keeping with the violence of its cultural inheritance to be shown at the abbey between July and December 2000. Situated opposite the XI century fresco temporarily removed to the refectory for restoration, Ettl's "Battle of the Kings" extends along the length of the wall as a series of line figures. His treatment of the subject betrays an ironic view of the biblical story relating Abraham's battle with four kings - the battle of a simple shepherd against royal power. " At the base of the vaulting, two kings can be seen hurling insults at one another, each advised by his own "rabble-rouser" counsellor. Their obedient, gullible soldiers, herald the forthcoming massacre with trumpets raised. What at first promises to be a mild skirmish ends as a bloody fray with soldiers mercilessly killing each other while the two opposing kings, comfortably ensconced with smiles on their faces, survey the scene from afar. Systematic portrayal of figures in profile painted against a backdrop of medieval implements and objects (crowns, swords, battlefield tents) may be deliberately reminiscent of Egyptian hieratic illustrations but nevertheless contrives to be modern with its repetition of undressed shop-window-dummy-like figures with no arms. The artist seems to be saying that ancient and modern times are perhaps more closely bound than we had previously thought.
WOMAN SCULPTURE BELOW ABTEIBERG MUSEUM, MÖNCHENGLADBACH, GERMANY, 2002
"Woman Sculpture", Steel, Height 9.35 meters, Steel Thickness 10 centimeters, Photos: Rebecca Ohler
In 2002, the sculpture "Woman" was installed at the Münsterstiege of Museum Abteiberg. A small version of this sculpture can be found in front of the entrance to the SMS Meer Corporation on Ohlerkirchweg in Mönchengladbach. Both sculptures were made in the SMS Meer plant.Ettl granted SMS Meer permission to produce 30 miniature (30 cm high) versions after the image of the original sculpture. These sculptures were then given away to assorted customers of SMS Meer. The figures are no longer in stock.
THEME GARDEN "I HAVE A DREAM" STATE HORTICULTURE SHOW   DYCK CASTLE, JÜCHEN, GERMANY 2002
Theme Garden on the northern tip of Dycker Fields. On the occasion of the Neuss Garden Show, landscape architect, Georg Penker asked Georg Ettl to create five sculptures.
Foto: Rebecca Ohler – The sculptures in the Dyck Castle Garden today
The collectively erected "I have a Dream" garden of Georg Ettl and Georg Penker is surrounded by high hedges of white Carrera-stones intended to ward off the evil ghosts of a "Witches Circle". In the middle, Ettl placed six figures: a man on vacation relaxing on a lounge chair, a woman with a cheetah, a horse playing with a ball, a rabbit and a pig.
Mann und Frau repräsentieren hier nicht nur Adam und Eva, sondern den allgemeinen jeweiligen Archetypus der beiden Geschlechter. 
Man and Woman represent not only Adam and Eve, but also the general, respective archetype of both sexes.
Penker then added the symbolic apple tree to this symbolic gathering.
HORSEMEN IN THE SCULPTURE PARK OF THE NEERSEN CASTLE, WILLICH, GERMANY, 2003
Ettl's horsemen flank the staircase on the terrace leading to the park. 
"THE STRONG WOMAN" IN THE CITY HALL SQUARE, VIERSEN, GERMANY,  2004
""The Strong Woman", laser cut Corten Steel. Height 7.30 meters.The original title of this figure was "Woman with Arms" which independently changed through the years and established itself into "The Strong Women".
Heads without faces or gaze, figures without arms, gender neutral and naked, Georg Ettl's figures are reduced to cut- paper- like silhouettes angular and void of decoration and pronounced details. They are stencils without gender. The artistic signature does not allow them to speak. They are laser cut sheets of steel or wood. Ettl's pictures of humanity are slim, ageless, without clothes except for an occasional high heeled shoe. The mouth is slightly open as if stopped mid-sentence. Some have long hair distinguishing them from those that do not. "The simple but urgent language of drawing raises the readability for all - whether young or old, educated or not" 
With all the prototype similarities, the figures are differentiated from one other through their assigned attributes and through the act in which they are involved - a scene will be described. On top of a simple base construction, a large woman steps forward and proudly shows off her flexed muscles. A strong presentation that awaits applause, but the square where the scene takes place is strangely empty. The City Hall in Viersen is in this case not an all around composed square but rather a throughway in between administrative buildings, a bus depot and a garden of the City Gallery surrounded by their backsides – actually a backyard. The Woman with Arms stands against the pale facades of the city buildings next to a wide staircase and overviews of the square. Her appearance changes the square into a stage.
However, The Strong Woman does not statically stand on her base – at this moment, she walks onto the stage and is held fast. A frozen moment: proud in her pose and soon to wonder why no one is there.
The sculpture is a gift to the city from a citizen of Viersen in honour of the dedication of the new city buildings in 2004. She is the property of the city of Viersen.