EXHIBITION GALERIE GRISEBACH - Düsseldorf, Germany         12.12.19 -21.02.20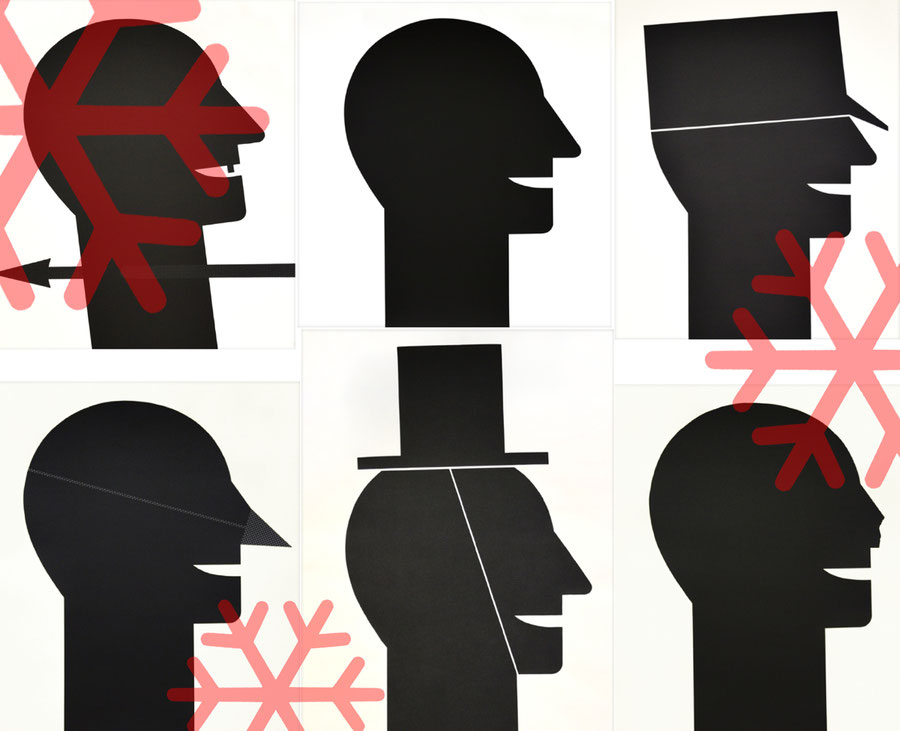 Georg Ettl. Heads. 1989. Silkskreen on paper. Different sizes.
As the year is coming to an end we invite you to come see us and the art of Georg Ettl. Warm up with a glass of mulled wine from the Brasserie Stadthaus Düsseldorf/Florian Conzen.

Thursday, December 12th, 2019, 6-8 pm

Current exhibition:
Georg Ettl
December 12th,  2019 –  February 21st,  2020
Bilker Straße 4–6, 40213 Düsseldorf, Germany
ARTISSIMA - Torino, Italy, November 1-3,
Exhibitor: JIRI SVESTKA GALLERY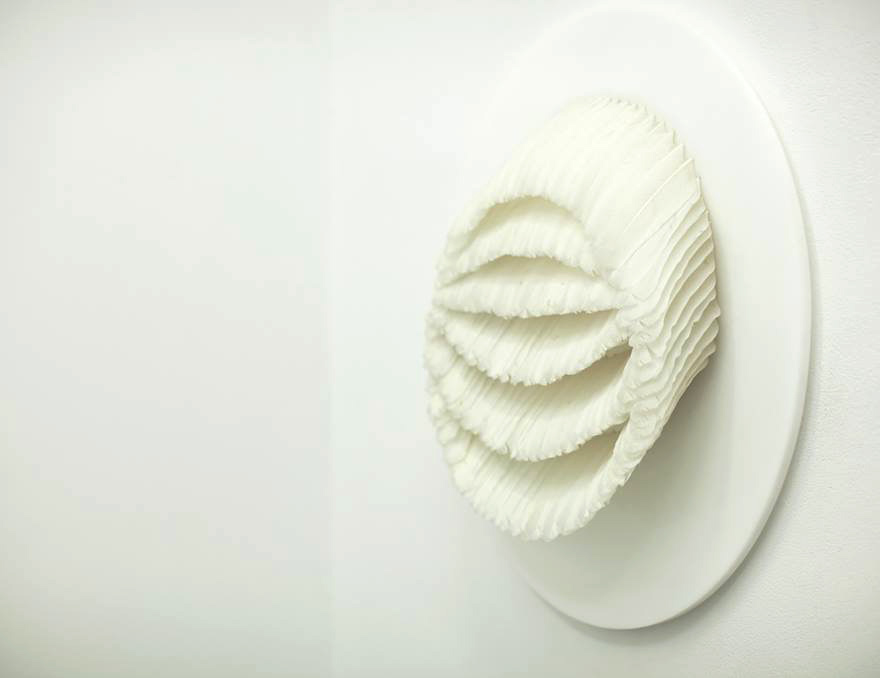 Location: via Giacomo Mattè Trucco, 70 - Torino, Italia - "Black Corridor", Booth n° 10 
Bauhaus Anniversary in the Villa V in Viersen on 31.03.19 at 11:30
Vernissage "The House in the Works of Georg Ettl"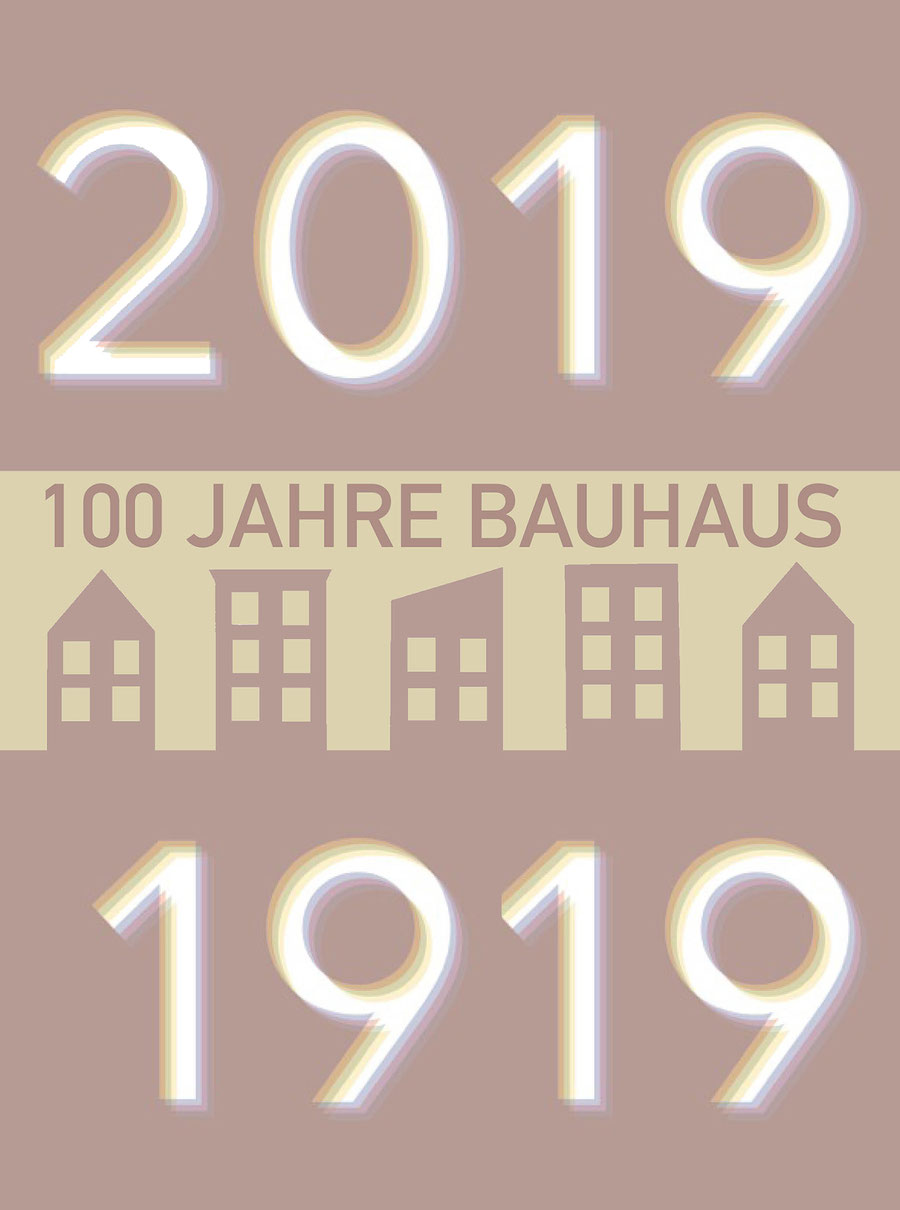 THE HOUSE
Vernissage "The House in the Works of Georg Ettl"
"Simple Pictures of a Clear World". Thus begins the text of Julian Heynen in the catalogue "Georg Ettl" on the exhibition in the Kaiser Wilhelm Museum Krefeld, from April 17th to Mai 29th, 1983. Nearly 36 years later and 4 years after the death of Georg Ettl, the Villa V is showing the artists works from his different creative phases on the topic "House".
"Our ideas about the house are disordered; many things come together. In the Grimm's Dictionary it has the "most common sense of means to retrieve, a shelter".... Georg Ettl plays on all this with his house pictures"
Bicycle tour to the artworks of Georg Ettl in public spaces as opart of the Villa-V on Sunday 05.26.2019 at 10:00
Exhibition Museum Deggendorf, Germany, 25.10.18 -  24.02.2019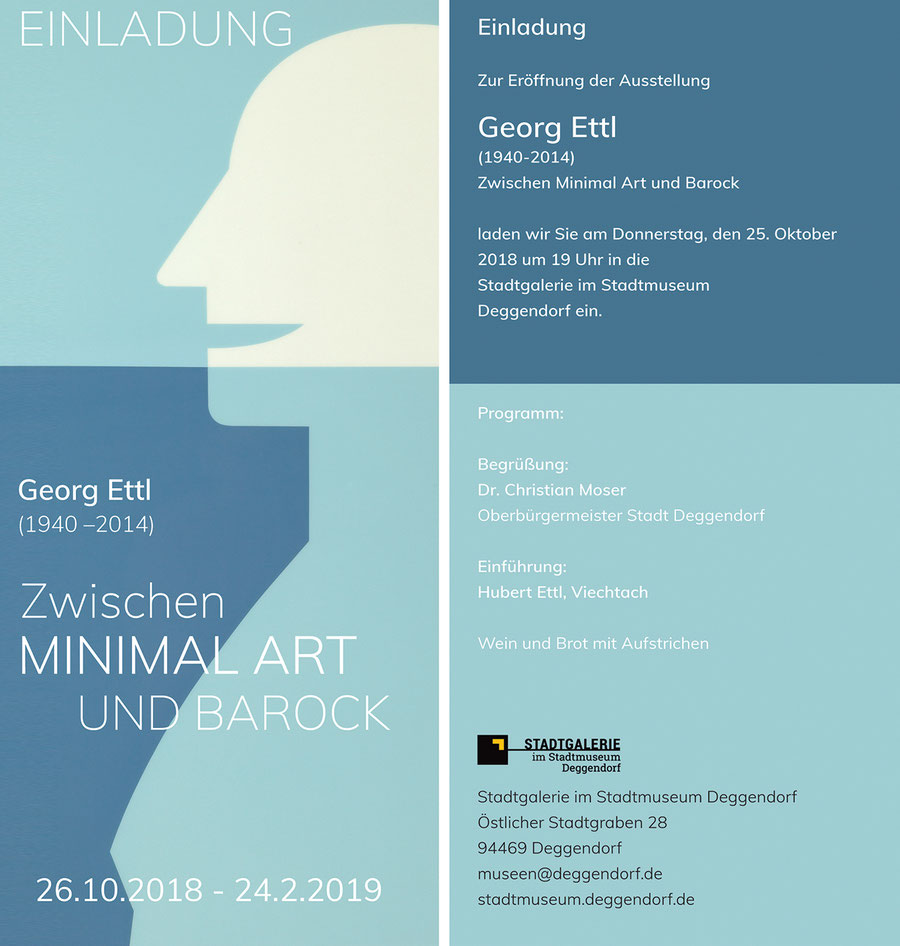 BICTCLE TOUR to the artworks of Georg Ettl in public spaces.
Sunday 05.26.2019 | 10:00 | Weiherstrasse , Mönchengladbach LANDPARTIE
Come and join us on a little guided tour that will turn this country outing into a cultural environement. We start at 10:00 o'clock at the steel sculpture  WOMAN WITHOUT ARMS, Weiherstrasse, Abteiberg in Mönchengladbach.
9 artworks including the highlight of the current exhibition in villa V: The House in the Works of Georg Ettl

Inauguration of "Horse Steed", Mönchengladbach, Germany  September 2nd, 2017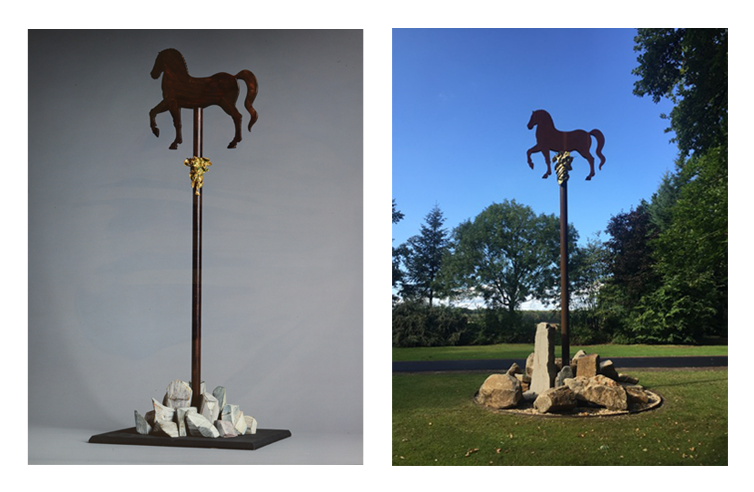 Left: Model for a monumental horse steed, 1982, painted wood, gilded and painted paper mâché 66 cm high
Photo: Hadler/Stuhr
Right: the sculpture after the design of Georg Ettl is a memorial in memory of the victims of the National Socialist Military Justice
Photo: Gerda Marie Voss
---
Nicht weit von einem Gräberfeld auf dem Hauptfriedhof, das an getötete Zwangsarbeiter erinnert, ragt ein Stahlpferd als Plastik in den Himmel. Es ist ein Mahnmal für die Opfer der NS-Justiz. Von Sigrid Blomen-Radermacher
Legionen von Reiterstandbildern stehen in den Städten und auf den Plätzen dieser Welt. Sie erinnern heroisch, unübersehbar und allzu oft unreflektiert an geschlagene Schlachten und denkwürdige Anführer. Am Samstag wurde nun ein "Reiterstandbild" der besonderen Art in einer festlichen und emotionalen Zeremonie vor großem Publikum der Öffentlichkeit übergeben. Es steht auf dem städtischen Hauptfriedhof - ein Reiterstandbild ohne Reiter und massivem Sockel. Ein Mahnmal. Gefertigt nach einem Entwurf des Künstlers Georg Ettl.
Oberbürgermeister Hans Wilhelm Reiners dankte dem in Viersen lebenden Architekten Professor Heinz Döhmen, 1927 geboren, der der Stadt Mönchengladbach das Denkmal geschenkt hat. Dieses Mahnmal, so erläuterte Reiners, sei den Opfern der nationalsozialistischen Militärjustiz gewidmet, einer Justiz, die diejenigen verfolgte, die sich
dem Wahnsinn des Krieges widersetzten. Diese Opfergruppe ins Bewusstsein zu holen, sei Idee des Mahnmals. Auch Mönchengladbacher Bürger seien Opfer der Justiz geworden, so Reiners.
Weit spannte er den Bogen des Gedenkens von den Opfern aus der Zeit des Zweiten Weltkrieges zu den Flüchtlingen unserer Zeit. Das Mahnmal sei eine symbolische Rehabilitierung der NS-Opfer, deren Verurteilungen erst vor 15 Jahren rechtlich aufgehoben wurde - eine unfassbare Vorstellung. Reiners drückte die Hoffnung aus, dass das Mahnmal von Ettl eine Diskussion über die Opfer und ihre Bedeutung für uns heute in Gang setzen könne und den Wunsch, dass Schüler es besuchen werden. Der Erinnerungskultur werde in Mönchengladbach eine neue Facette hinzugefügt.
Nicht weit vom Gräberfeld in Erinnerung an 90 getötete Zwangsarbeiter auf dem Hauptfriedhof ragt hoch in den Himmel ein Stahlpferd, ein rötliches, flächiges Pferd - mehr als eine dreidimensionale Plastik. Ohne Reiter scheint es über den Wipfeln der Bäume in Richtung Ausgang zu fliehen. Das Pferd ist in Ettls typischem Stil gearbeitet: sehr minimalistisch, zurückgenommen auf wesentliche Merkmale.
Unter ihm ein goldenes, vegetabiles Kapitell und weit unter ihm am Boden: ein Steinhaufen als eine besondere Form des Sockels. Und davor: eine Platte mit Worten von Bertolt Brecht aus der "Deutschen Kriegsfibel": "So haben wir ihn an die Wand gestellt, Mensch unsresgleichen, einer Mutter Sohn. Ihn umzubringen und damit die Welt es wisse, machten wir ein Bild danach."
Heinz Döhmen erinnerte in einer bewegenden Ansprache an eigene Kriegserlebnisse, an erlittenes Unrecht, er berichtete von seiner Flucht und der ständigen Angst vor Entdeckung und Verhaftung. Er erlebte zwar nicht die eigene Verurteilung, aber die seines Schuldirektors, des Kaplans, von Freunden. Er erlebte den Brand der Synagoge in Mönchengladbach. Seine Vergangenheit, so Döhmen, finde ihren Sinn darin, das, was ihm möglich sei, zu tun, um an das Unrecht zu erinnern. Das Pferd, so Döhmen, sei auch Symbol für die in sinnlosen Kriegen abgeschlachteten Tiere, der Steinhaufen lasse an das Grab für den Ungeist der Richter der nationalsozialistischen Zeit denken.
Die Plastik ist nach einem Entwurf seines Freundes, des 2014 verstorbenen Künstlers Georg Ettl gearbeitet worden (Ausführung durch Arpad Safranek, Viersen). Dieser wird sowohl als Mönchengladbacher Künstler (er war einer der ersten, die ein Atelier im Künstlerhaus Steinmetzstraße bezogen) als auch als Viersener Künstler betrachtet, wo er Jahrzehnte als Lehrer und Künstler tätig war und lebte. In beiden Städten hat er deutliche Spuren seiner Kunst in Form von Plastiken und Wandgemälden hinterlassen.
Quelle: RP
---
Ausstellung Jiri Svestka Gallery, Berlin, 17.09. - 05.11. 2016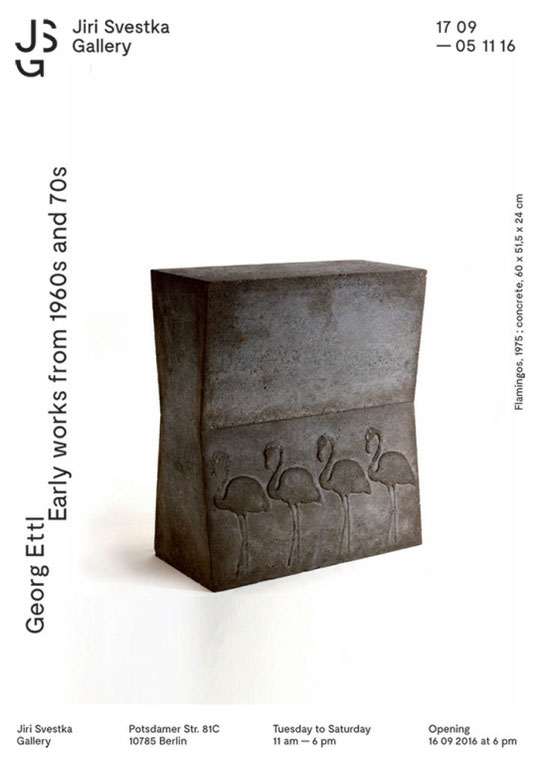 AUSSTELLUNG VERLÄNGERT BIS ZUM 17. DEZEMBER 2016
REVIEW ON GEORG ETTL AT JIRI SVESTKA GALLERY – EARLY WORKS FROM 1960S AND 70S
"Jiri Svestka Gallery, a small gallery hidden on the 3rd floor in front of the Blain|Southern Gallery, is a fine gem. Since the 16th of September in the context of the Berlin Art Week, they opened their doors to the exhibition of Georg Ettl, a German artist born on 1940 who migrated to the US to return during the '70 and whose artwork is very difficult to categorize due to his versatility.
Every time I have visited any of Jiri Svestka Gallery exhibitions I have been positively surprised. That is why, when I am around the area I go for a peak and treat myself with an art surprise. This time, despite the promotion picture of Georg Ettl's work not being very promising, I still decided to give it a try.
The surprise was major. I was expecting a whole bunch of uninteresting looking cement blocks, but on the contrary, I found in front of me the graceful works of Georg Ettl, forming a harmonious contrast in the shape of an exhibition; almost like the feeling of having a exquisitily prepared dish with a delicious umami taste that it involved all of my senses.
I saw it but I felt it.
It was cold but warm, hard but soft, achromatic but colorful, ephemeral but enduring, uniform but contrasted, fragile but indestructible and opaque but translucent.
It felt like it was talking about life itself.
I invite you to visit this exhibition and experience yourself the rollercoaster of contrasts and the subtlety of the works. It's a good way to awaken your senses in these grey days of autumn."
by Julia Mari Bernhaus
ARTCONNECT MAGAZINE