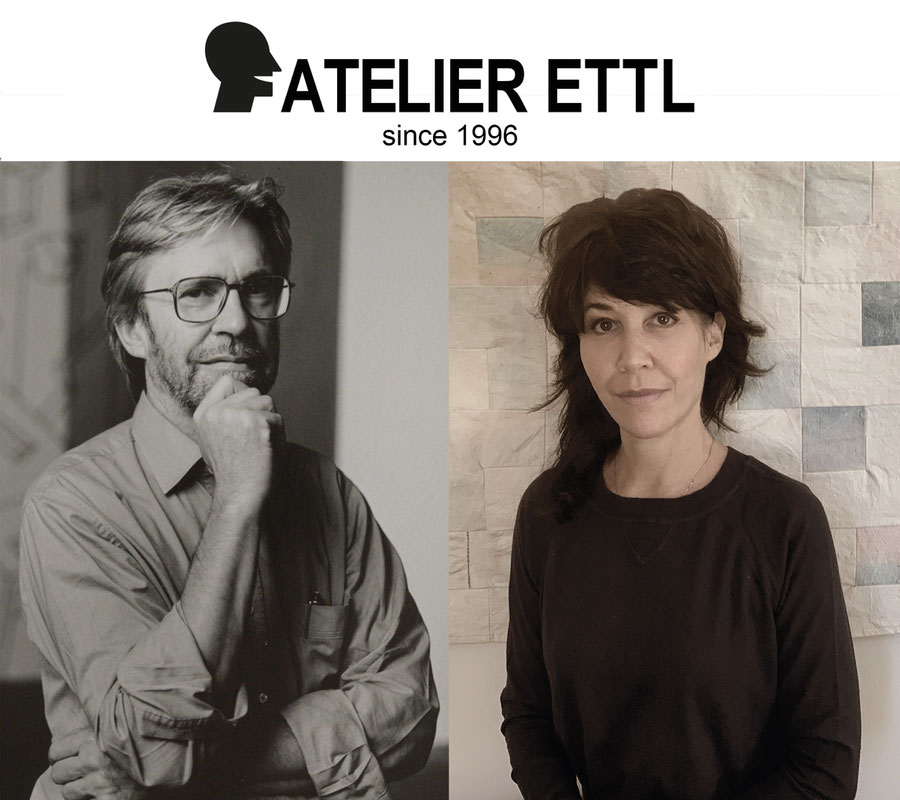 Atelier Ettl 1996
Atelier Ettl was founded by Renatae Ettl in 2014. She did so to manage the artistic estate of her late father, George Ettl. Besides organizing international exhibitions and events she also continues to promote and develop the label "Atelier Ettl".
George Ettl (1940 – 2014) came from the minimalist movement. He was an established artist well recognized in Germany, France and the United States. In addition to his paintings, sculptures and public projects, George Ettl started to create art editions in 1996. These editions included wall decorations, sculptures, furniture, and household items and were marketed under the label "Atelier Ettl".
Most of the "Atelier Ettl' editions were unlimited.  First and subsequent editions were held of equal value by the artist defending the idea that mass production as an artistic means reflects the industrial age. It was George Ettl's intention to create affordable art for everybody thus spreading it in a democratic rather than elitist manner, taking on the artists task of aesthetically shaping our every day living spaces a step further.
He was convinced that the pictorial language of contemporary art fit into this world of goods consciously taking on the risk of measuring his visual language with designer products and the beautiful world of department stores. By doing so aesthetically changing our living spaces and thus setting new standards. 
The origins of Atelier Ettl started in 1980 as George Ettl began to increasingly draw and therefore develop his own vocabulary of form. At the beginning, George Ettl began to perfect the profile of the human head until it resulted in his idea of a typical head. This image of the head would become his trademark. 
The head appeared as a silhouette out of cut wood, sandblasted on marble plates.
Soon afterwards, other editions appeared: the silhouettes of man and woman, houses and animals. All cut out by laser out of plywood and different metals.
A well experienced illustrator and graphic art designer, Renatae Ettl left the fashion industry in 2018 where she had worked as a designer and pattern maker for 20 years. She decided to dedicate more time into developing her father's label. To do so, she follows up on selected existing "Atelier Ettl" editions and also creates new ones. These new editions are inspired by the large variety of images in her father's art and are always in keeping with the spirit behind the label.
Today Renatae Ettl wants to take the label's spirit to the next level. In view of the inequality and hardships in our world, she therefore makes it her goal to seek out partnerships between "Atelier Ettl" and charitable organizations. To this purpose she offers to create customized "Atelier Ettl" editions which are then marketed in the form of a joint fundraising project. The particular image chosen from her father's work for these editions always reflects the organizations' purpose and commitment.
Thus, Renatae Ettl created the first "Atelier Ettl" edition of this kind in 2021 in partnership with the Zonta Club Viersen Area, a branch of Zonta Club International. Zonta believes in making the world a better place by empowering women.  Founded in Buffalo NY in 1919, Zonta Clubs have spread around the world and today have more than 1100 locations in 63 countries. To this end, George Ettl's daughter used the image of his well-known symbolic sculpture "The Strong Woman" - a 24' high steel sculpture standing in the town hall square of Viersen, Germany since 2004.
Each work of the new "Atelier Ettl" editions is marked with the year and the "Atelier Ettl" logo in order to clearly distinguish it from the editions George Ettl created during his lifetime.
New edition  ATELIER ETTL
BRASS HARE, Spring 2022
Brass hare after the image of George Ettl. Photos: Rebecca Ohler
Material: Polished brass 4.7" x 3.1" x 1.4".
Limited edition: 75 
First edition: 25, available on  March, 31st, 2022.
The hare in the works of George Ettl
George Ettl was inspired by the animal kingdom very early on in his career.  His first works showing the logo-like animal silhouettes appeared in the mid 70's. At the time Ettl limited himself to the silhouettes of horses, flamingos and marabus, which appeared repeatedly in his work over the years. 
It was not until 1992,  when redesigning the interior of the Heilig geist Church in Neuss, Germany, that Ettl created further animal silhouettes and painted them on the walls of the church in large numbers as part of the different bible stories. 
The hare appeared for the first time in 1996 on the right side wall of the church as one of the animal pairs entering Noah's Ark. 
In 2001 the hare reappeared in Ettl's large plywood sculptures in the scenes of "Noah's Ark", "The Farm" and "Paradise".   
On Ettl's edition of printed table cloths from 2002 the hare is once again present entering Noah's Ark.  
In the same year, Ettl's hare could be rediscovered in form of a bigger than life steel sculpture.
As part of the state garden show at the castle of Dyck in Jüchen, Germany in 2002, Ettl was commissioned to design a group of sculptures for a garden area at the castle. The hare was one of the five figures Ettl created and  installed in the foreseen garden area. 
Ultimately, the hare can be found in Ettl's well-known editions of plywood figures labeled "Atelier Ettl". At first in 2003 in the small version of "Paradise" with Adam and Eve and side by side with a cheetah. And finally, at the request of a friend of Ettl, as the single hare, which became a very popular unlimited  "Atelier Ettl" edition, still available to this day.  
On the occasion of Easter and to commemorate George Ettl's birthday, Atelier Ettl is launching another version of the Ettl Hare. This time as a polished brass figure measuring 4.7" x 3.1" x 1.4 ". The edition is limited to 75 hares. 
Each hare of the edition numbered and marked with the Atelier Ettl logo. They come in a customised box, with a choice of a pink, black or gold hare embellished on it's lid. 
George Ettl would have been 82 years old on March, 31st, 2022. Atelier Ettl is keeping his work alive. 
New edition ATELIER ETTL
MALE ANGEL & FEMALE ANGEL without sword, 2021
Male angel and female angel without sword after the image of  George Ettl. Photos: Rebecca Oher
Material: Steel, untreated. Hight: 11,6"
First edition Atelier Ettl: November 2021.
Available on November, 20th, 2021.
The sculptures are intended to rust.
The original work by George Ettl is a 9,8' tall steel sculpture that is privately owned in Viersen, Germany. Its surface is entirely rusted by now.
"Art is ephemeral" Ettl said and therefor left the bigger part of his public steel sculptures untreated, so to expose the to the natural process of rusting.
THE STRONG WOMAN - SPECIAL EDITION 2021
An Atelier Ettl and Zonta Club Viersen Area fundraising project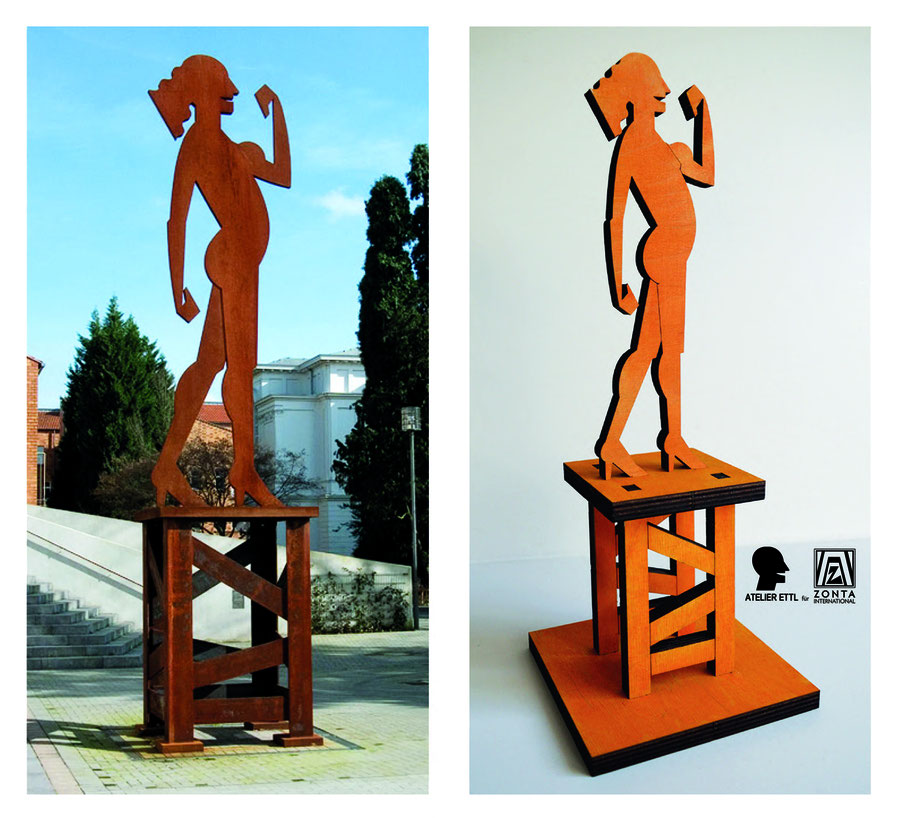 "The Strong Woman, left: big steel sculpture 2004, right : special edition Atelier Ettl, 2021 - Foto: Carlos Gomes-Correia
Material: glazed plywood. hight: 15,7".
Limited edition: June 2021.
Sold out